SPY will go ex-dividend Friday, March 15th, 2019 with a dividend I'm estimating to be $1.15 /share (based on historical patterns.)  SPY's distribution payout will be on April 30th, 2019—yes the SPDR folks take their time delivering the dividend.  I'm estimating Vanguard's VOO, one of the other two big S&P 500 ETFs, will go ex-dividend on the 13th of March with a dividend of $1.09/ share.  iShares' IVV, will go went ex-dividend on the 20th of March with a dividend of $1.08/ share. VOO and IVV are much faster to distribute the dividends—both pay out within a week of their ex-dividend dates. IVV and VOO reinvest dividends into their constituent stocks until the payout date arrives. SPY is restricted by its Unit Investment Trust legal structure to hold dividends in cash until they are paid out.
SPY is the largest ETF in the world, currently with $259 billion in assets under management.  The next two largest ETFs that track the S&P 500 are iShare's IVV and Vanguard's VOO—currently with $161 billion and $101 billion in assets respectively. The table below summarizes dividend information for SPY, IVV, and VOO. Vanguard only publishes ex-dividend dates a few days prior to the event itself, so future dates for VOO are just estimates.
| | | | | |
| --- | --- | --- | --- | --- |
| Ticker | Next Ex-dividend | Next Pay date | December Dividend | March Dividend |
| SPY | 15-Mar–2019 | 31-Jan-2019 |   $1.323 | $ 1.15 (est) |
| IVV | 20-Mar-2019 | 26-Mar-2019 |  $1.277 | $ 1.08 (est) |
| VOO | 13-Mar-2019 (est) | 20-Nar-2019 | $ 1.289 | $ 1.09 (est) |

You only have to buy a stock or ETF the day prior to its ex-dividend date to be eligible for the dividend.  You can sell on the ex-dividend date if you want and still collect the dividend when the distribution/pay date arrives.  Be aware that in a flat market the stock or ETF at market open on its ex-dividend date will typically drop in value by the dividend amount.  See Top 10 questions on Dividends if you have more questions.
SPY, IVV, VOO 2018 Ex-Dividend Dates
Ticker
Q1
Q2
Q3
Q4
SPY
16-Mar-19
21-Jun-19
20-Sep-19
20-Dec-19
30-Dec-19 (potential cap gains)
IVV
20-Mar-19
17-Jun-19
24-Sep-19
16-Dec-19
30-Dec-19 (potential cap gains)
VOO
26-Mar-19
28-Jun-19
24-Sep-19
17-Dec-19
Pay / Distribution Dates
SPY
30-Apr-19
31-Jul-19
31-Oct-19
31-Jan-19
31-Jan-20 (potential cap gains)
IVV
26-Mar-19
21-Jun-19
30-Sep-19
20-Dec-19
6-Jan-20 (potential cap gains)
VOO
29-Mar-19
3-July-19
1-Oct-19
20-Dec-19

For more information about ex-dividend and distribution dates for SPDR, iShares, Schwab, and Vanguard ETFs see this post. See the chart below for SPY's dividend history since 2013. Click on the graph to enlarge.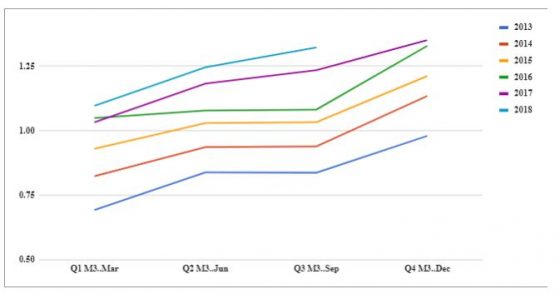 Why 14.5 is the right PE ratio for the S&P 500 Interested in SPY dividend capture?