Update 14-March-2022
Effective 14-Mar-2022 Barclays suspended share creations of VXX. In their press release Barclays said "Barclays does not currently have sufficient issuance capacity to support further sales from inventory and any further issuances of the ETNs." They state this halt as temporary saying, "Barclays expects to reopen sales and issuances of the ETNs as soon as it can accommodate additional capacity for future issuances." Other than not being permanent this leaves the timing of the resumption completely open. It could be a day or two or months, depending on the underlying problem–which isn't stated.
This is bad news.
Introduction
This post will discuss what VXX is ( full name: iPath S&P Series B S&P 500 VIX Short-Term Futures), how it trades, how its value is established, what it tracks, and how Barclays makes money running it.  VXX has been through some transitions recently.  The original security matured in January 2019 and was replaced by VXXB, which was very similar except for a few items covered here.  The brand name value of the VXX ticker symbol was considerable.  VXX and its medium-term sibling VXZ were the first volatility-based exchange-traded products and they gathered considerable assets.
Legally VXX's issuer, Barclays had to let VXX mature, so they created VXXB as a replacement.  However, once a ticker has been retired it can be reused, so Barclays changed VXXB back to VXX effective May 2nd, 2019.   For more on the VXX to VXXB transition see Goodbye VXX, Hello VXXB.
How does VXX trade? 
How is VXX's value established?

What does VXX track?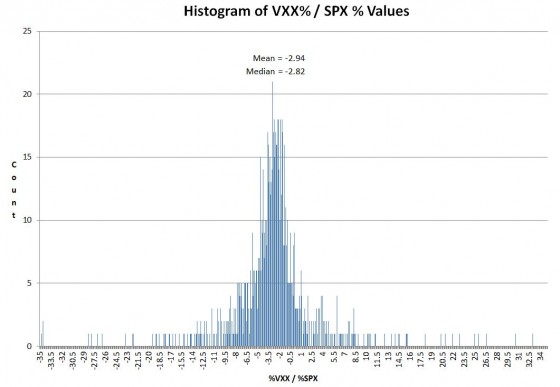 How does Barclays make money on VXX?

Important Dates
VXX is a dangerous chimeric creature; it's structured like a bond, trades like a stock, follows VIX futures, and decays like an option.  Handle with care.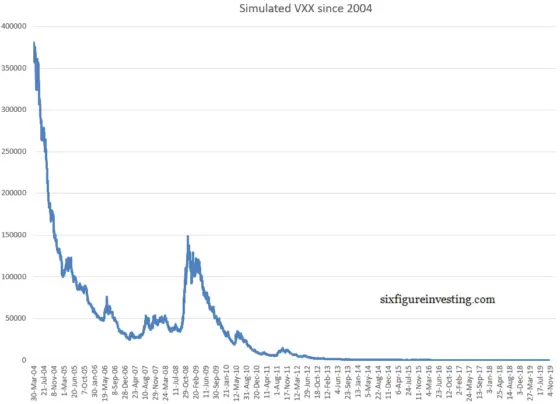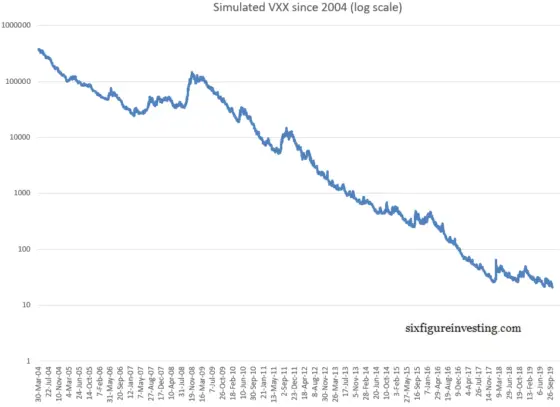 Purchase simulation of VXX 2004—2019
Updated Dec 17, 2019
For more information: